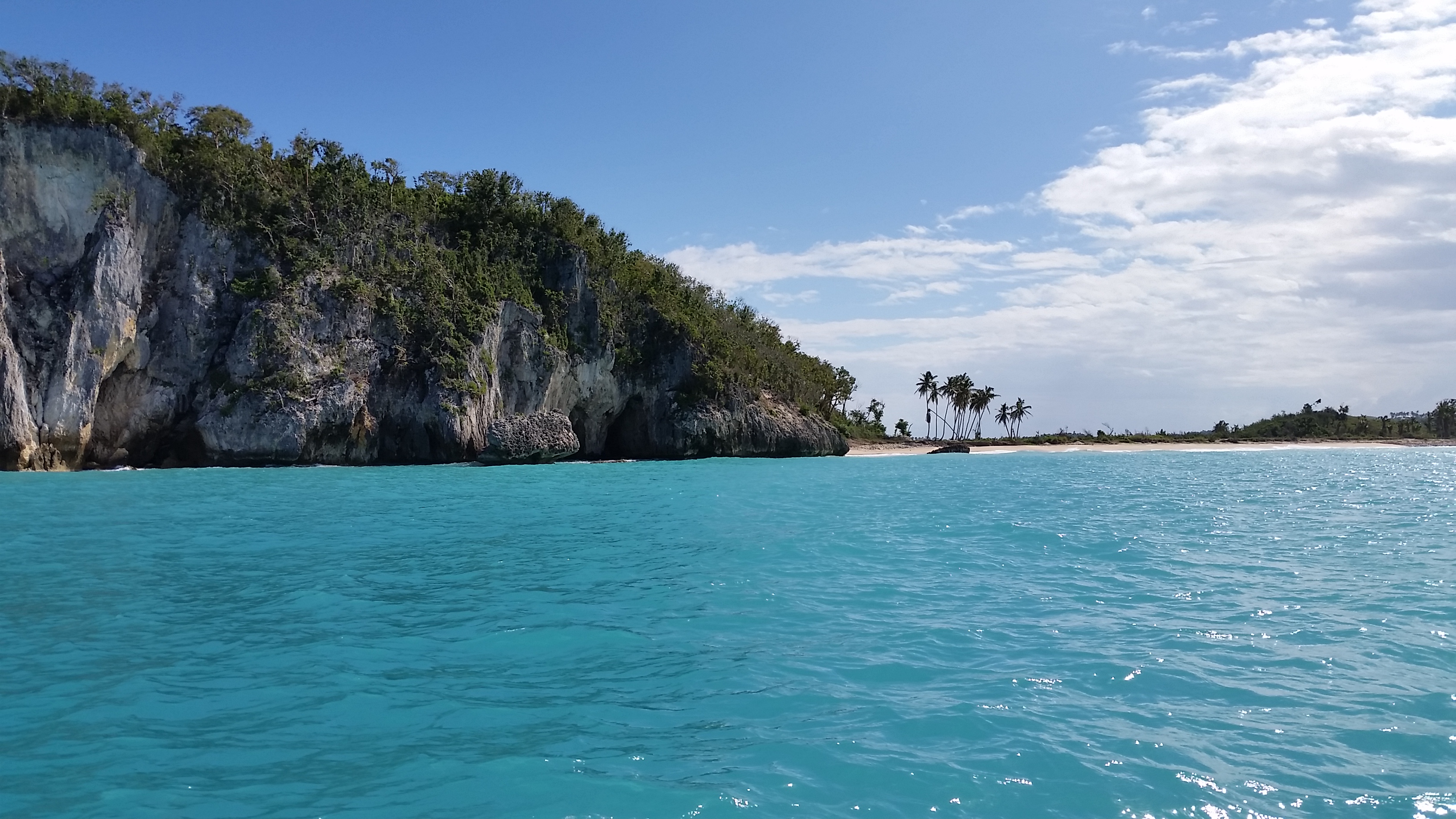 (Disclaimer-this post is from Saturday March 11…late due to a poor connection in Port au Prince. My apologies!)
Last night was actually the coolest and sleep seemed easier than before. Unfortunately we had to awake to the least favorite ritual – bringing down bed nets and final packing for the return journey. Our time on this island paradise had come to an end and we had to bid farewell until next time.
As we waited for the truck to make a return it was very hot and Kiki created a very unique way to avoid the burning sun. I was not surprised to see my dance buddy from the beach, Chadly, waiting for me at the bottom of the steps. He really is a charmer…so I left a bit of Smith Mountain Lake, VA on Ile a Vache this time!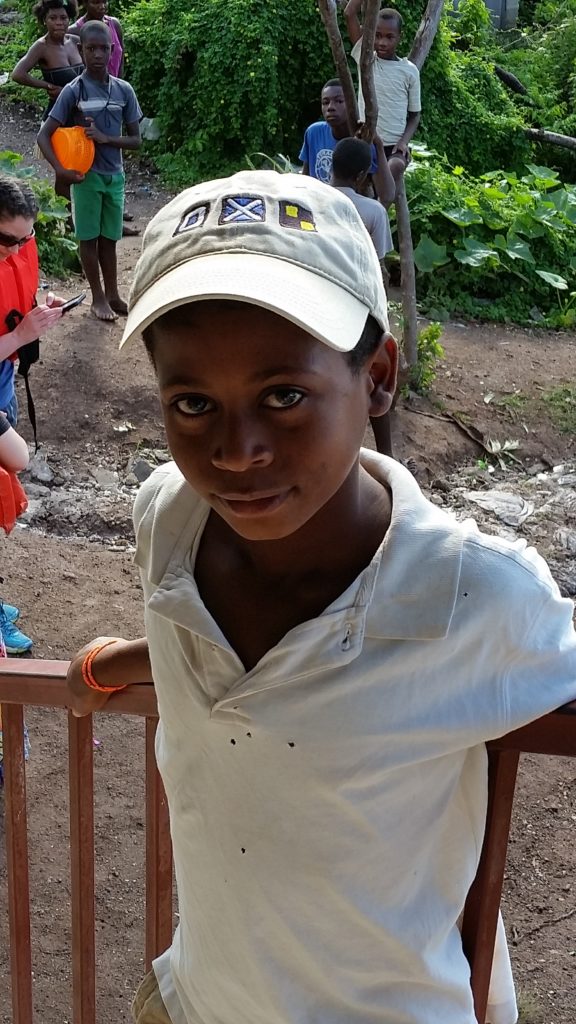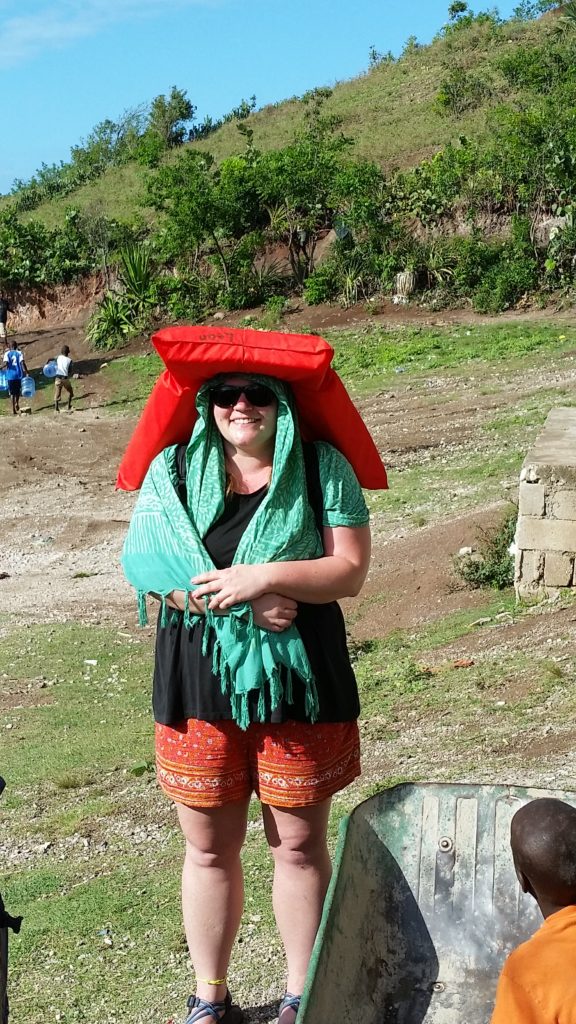 Once all loaded into the boats, we made our "slow boat to Les Cayes" ride from the beach, across the channel and to the pier. The beauty of this island is never more apparent than from the water! The seas were calm and we arrived at the pier mostly dry. The unloading process was much more efficient and much less harrowing than a year ago. We made a quick pit stop at Nora and Léon's guest house in Les Cayes, said (and hugged) our last goodbyes to our new fast friends and headed towards Port au Prince, certain of our return
There was rain ahead and it was market day in many of the cities we passed through, but we still managed to arrive at the edge of Port au Prince in just 4 hours – most of which was spent sleeping by most of the team. Then the "short cut" to get to our layover at the Deli Mart – no telling how much time it added to the journey. Anyway, once we arrived, most everyone did a little shopping for local food items, but I think Melila was in Haitian heaven…she nearly cleared the shelves of bread fruit chips…mission accomplished!
With merchandise in hand we made the last leg to our home for the night…our favorite, St Joseph's. We were greeted by our good friends Bill and Walnes and we quickly dropped our bags in our assigned rooms before heading to the roof for a rest in the cool breeze…near heaven for me!
The next few hours made the evening – Josi and his wife Ruth with son Niely arrived just before the 6pm dinner bell rang. There were hugs all around and then we descended the 5 flights of stairs to make our way to the dining room where we were again surprised to see our old friends Lucson and Caroline…another amazing treat.  We had not seen either of them since 2011. They have not aged…but have definitely matured, and are pursuing remarkable careers, just like Josi. We could not be more thrilled to see them again.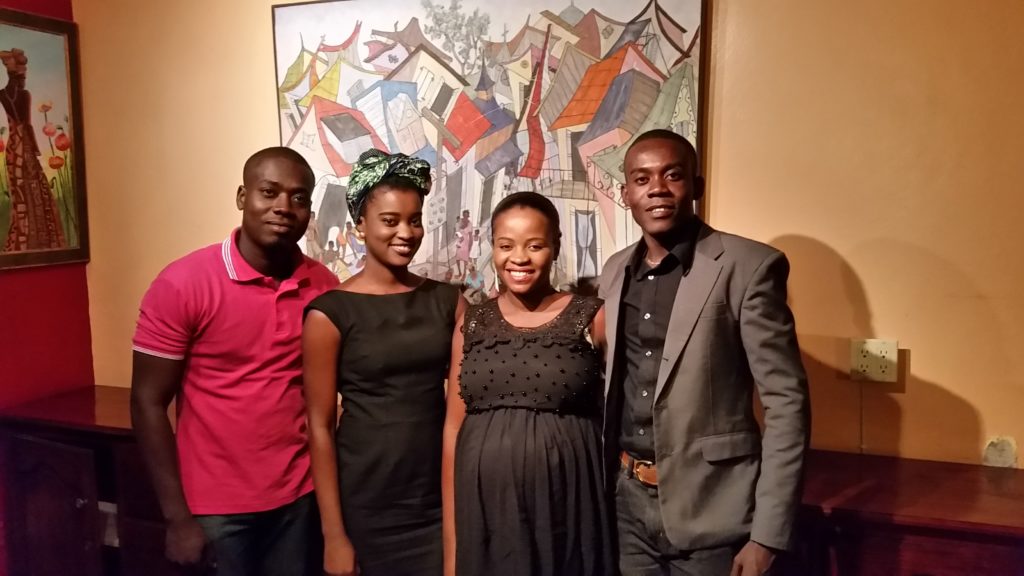 Dinner was delicious as always. It was spent catching up and reminiscing – what a great evening around the table. It will not surprise anyone who knows of Josi that he had a surprise in store for us. He presented us with a plaque honoring us for our assistance to his family and more so to the Haitian people. I have said it before and will repeat it now, this young man will do great things for his country some day.
Lucson also shared some heartfelt words on behalf of himself and our friend Caroline. What a very special group of young adults! I am honored to know them and thrilled to get to see them all again. This is why we came back the first time and it is connections such as these everywhere we go that keep us returning! My dream is to connect all of these wonderful people some day…maybe at a clinic dedication on the island of Île à Vache!!
Once pictures were taken and farewells bidden all around, we all made the climb to the roof for a last bit of team bonding. We are all exhausted! We know we have a very early wake up and breakfast, and we hope for minimal drama at the airport…what are the chances of that?!
Need to shut it down now – 5AM will come very soon. Will let you all know by quick facebook post when we are back in the States. Please pray for quick passage thru Customs and Immigration as we have a somewhat tight connection and we are now all very ready to get home to our loved ones!
Love to All,
The Team