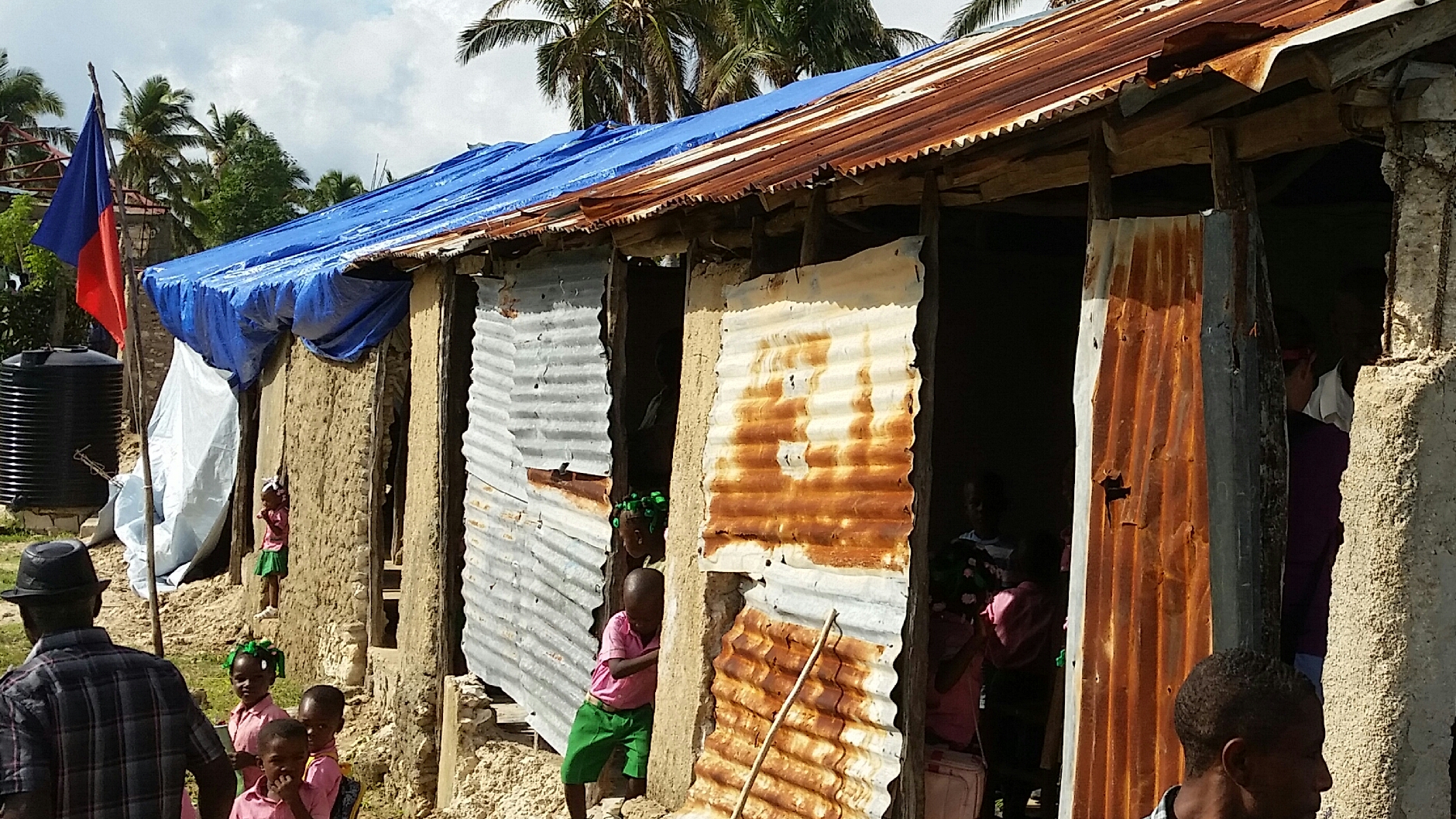 Last night was really a repeat of most every other night…fans, heat, sweat, interrupted sleep, wildlife noises…this is Haiti, Project Starfish style and we would really have it no othe way!
This morning, delicious Haitian oatmeal for one last time. This being our last clinic day, everyone was a bit sluggish this morning, but after coffee and a brief team meeting with "Madamn Big Boss", we were ready to get started.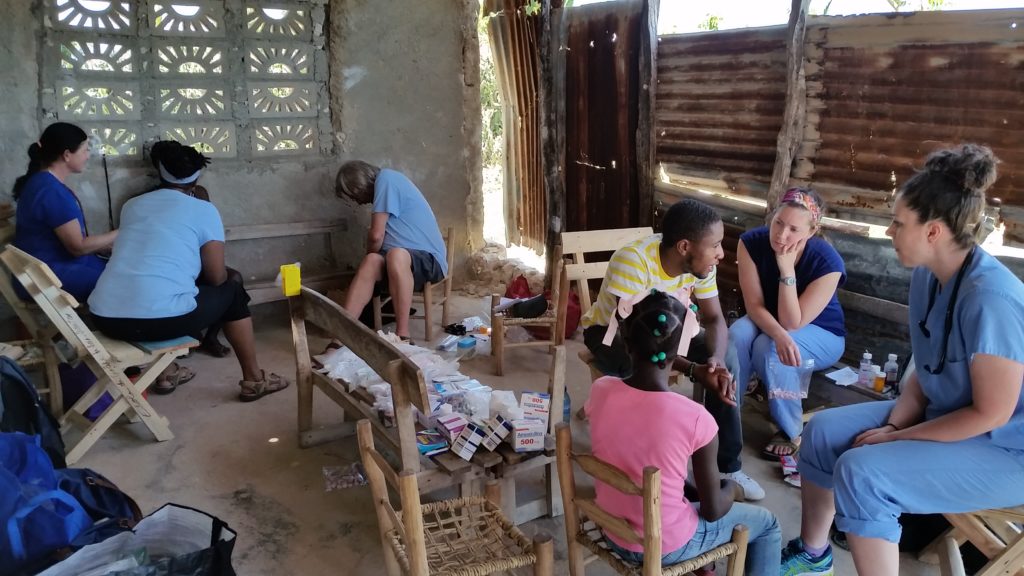 The ride over to the clinic site was more than double our trip yesterday, and quite bouncy…just the way we like it – too bad not on the back of a moto. The weather was clear and nearly breezeless, so those of us who were returning after the November trip were dreading a possible repeat of the hot box experience. Luckily, the school director made 3 classrooms available for our work as well as a separate room for obtaining blood pressures and patient waiting.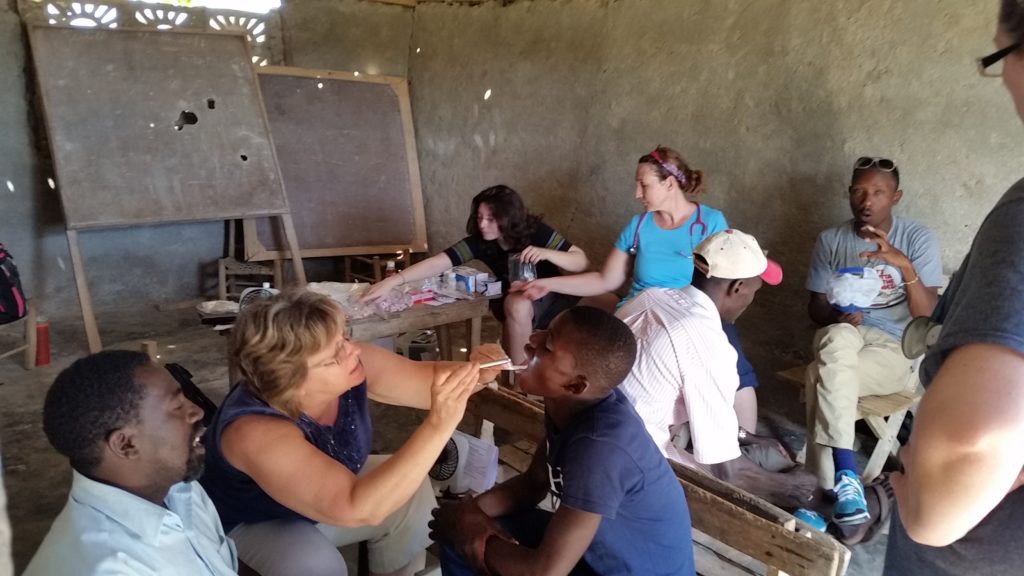 It may not have been as "luxurious" as La Hatte yesterday, but it was a far cry from 3 teams in one room last November. We were also lucky to be catching the only breeze through the open doors. Regardless, the volume of patients was high and it was still quite hot. After only a few hours, we estimated over 150 patients have been served. We even added 2 new providers to our team…way to go Chelsea and Kiki!
"Big Boss" decided clinic would end at 1:00 in order to get the whole team back to the guest house in a timely manner to eat lunch. I think he sensed the group's fatigue as well.  Unfortunately, we were still not all back until about 3:00. Maybe next time…motos! At the end of clinic, Léon surprised everyone with their own coconut…what a treat! Everyone drank the water and as soon as the 2nd wave of staff gathered the supplies to leave, the children descended on the space to take the remains, to open and eat…and some to just play with.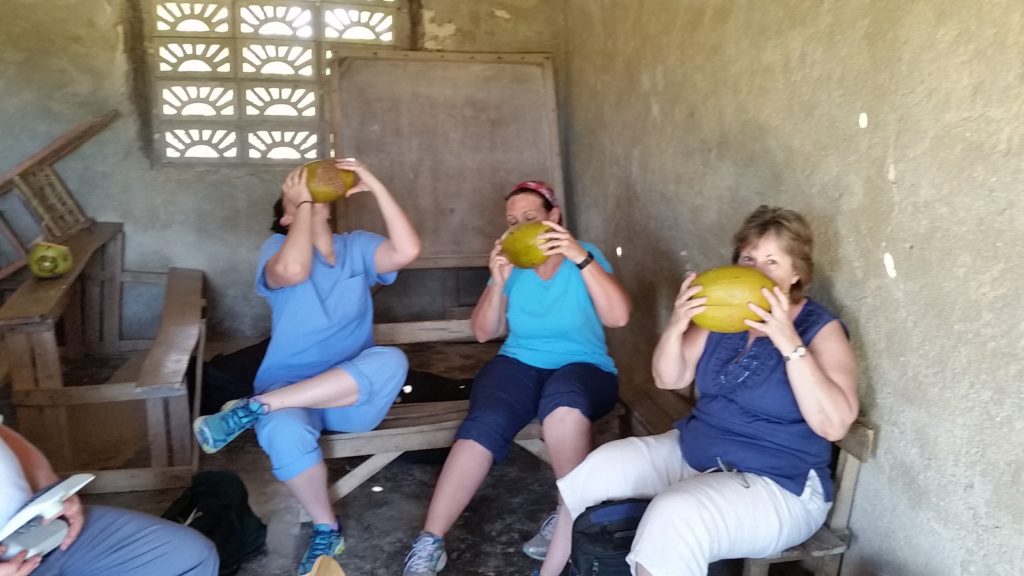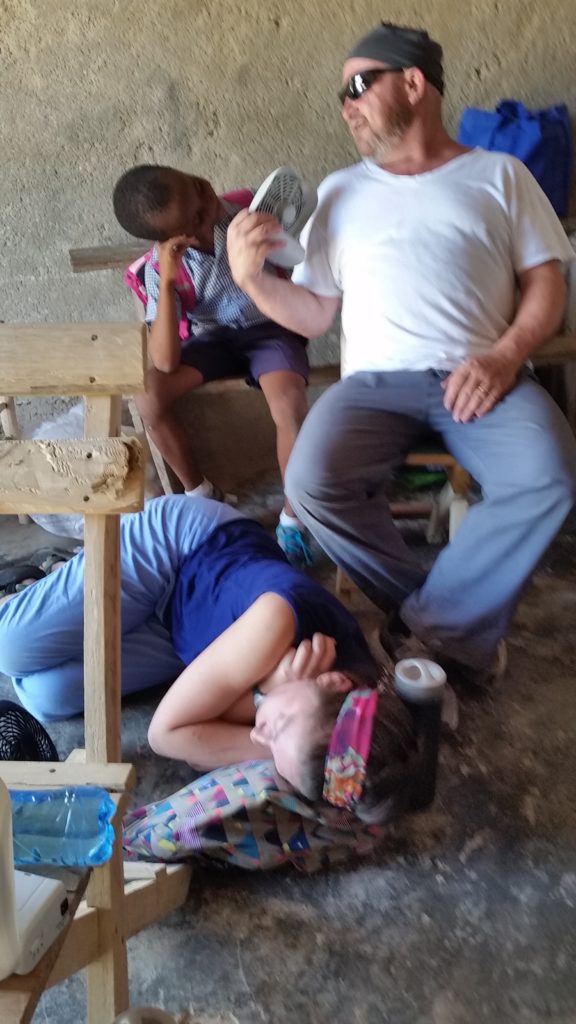 The ride home was beautiful, bouncy …and exhausting! Carla and Michael served as our best ambassadors on the way home, waving to all from the bed of the truck. They would have made the Grand Marshall of the Macy's Thanksgiving Day Parade proud!! Anyway, I have never been so happy to get back and have a Coke! After a bit of med counting, we set off for one last trip to the beach, some in one direction and some in the other…Emma proved to be a kid magnet and Carey discovered her favorite tree again!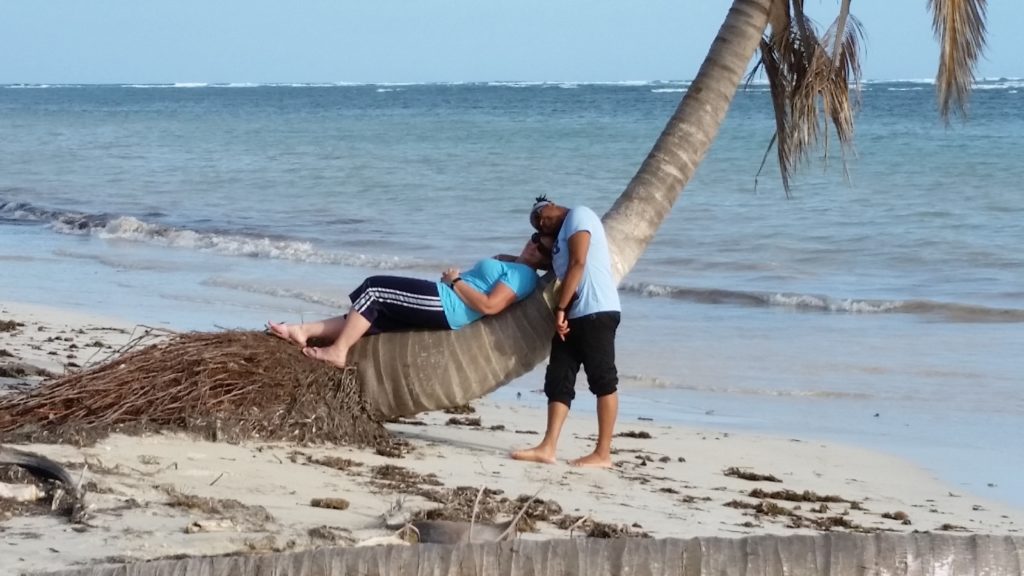 Everyone returned happy and refreshed, and before dinner we finished up the med inventory. Then we had our "Last Supper" on Ile a Vache – chicken, rice & beans with sauce, french fries, fried yucca and again, my favorite…pikliz…and tonight the cooks made it even more spicy! My belly is so happy.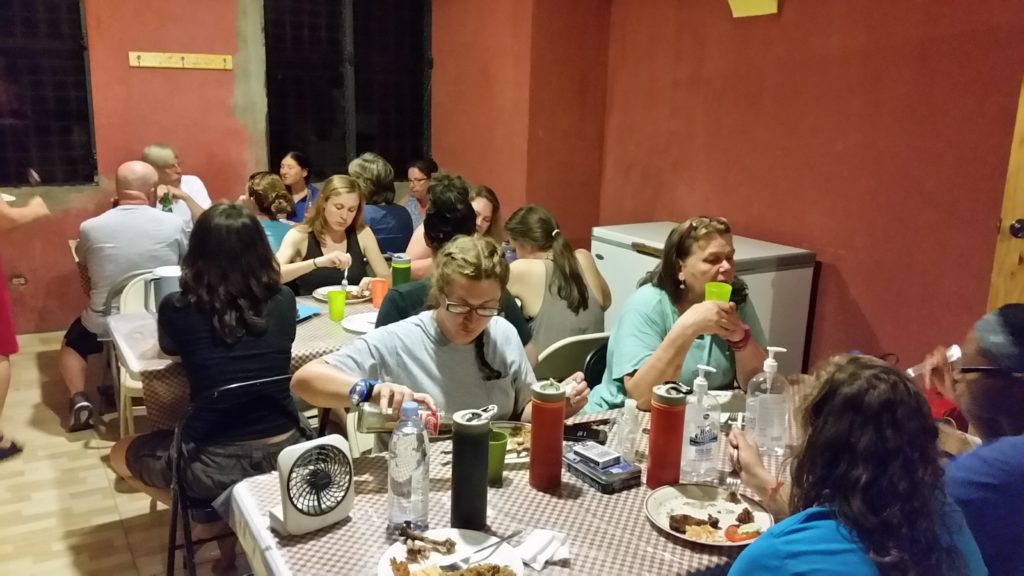 Now, some of us are engaged in a last dominos challenge and others are crowded on balconies facing the ocean where the breeze has picked up – a perfect end to the day and week…especially with a cold beverage in hand, surrounded by some of the most wonderful people! If only the breeze would pass all the way through to the back of the building tonight.
Tomorrow morning we will load up and head back across the channel to catch our ride to Port au Prince, where Melila will certainly arrange for our stop at The Deli Mart before we arrive at St. Joseph's. There, we will reunite with some old and very good friends for dinner, and no doubt gather on our favorite rooftop oasis for a last bit of storytelling and reminiscing about our adventure! It will most certainly be a "Prestigious" experience.
Getting late now, so with all that is planned tomorrow and all that has been going on today and this week, it is nearly time to turn in.
Will send more tomorrow after we make it to Port au Prince.
Love to All,
The Team