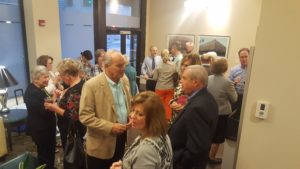 Our inaugural event was a success!  We enjoyed an evening of fellowship with friends and former colleagues of Dr Peter Whitehead.  We shared our long range vision and made our plea for assistance.  We shared a bit of our history and that of our new Partners, Grace Ministries of Ile a Vache as well as The Western New York Impact Foundation.  One of the most moving portions of the evening was the showing of a very poignant video produced by our friends at The WNY Impact Foundation. (Take a moment to view it for yourself right here…advanced warning, tissues may be necessary.  http://www.youtube.com/watch?v=27DoaG39R8E&app=desktop)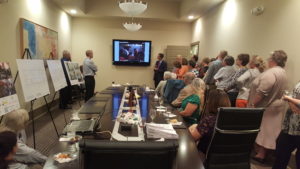 What is even more remarkable is what I am now at liberty to share with our followers…and I hope our donors.  To date, The WNY Impact Foundation has raised a total of $130,000 towards the completion of this Project…and they never even  knew Dr Whitehead!  They heard our story, bought into our dream and agreed to honor his memory in this way, because they too have dreamed of a permanent clinic in this deserving community.  This is remarkable and with the $10,000+ we had in our Building Fund, previously raised towards this goal, we have nearly $150,000 ready to go!  That is more than enough to begin the building process but unfortunately not even half of what will be needed to complete the Project.  The Push is On!  We hope our message resonated with our friends and colleagues in attendance, and now with those reading this post.  We NEED you ALL!!  Please help us keep up the momentum as we push towards our finish line.
We are committed and the people of Ile a Vache are deserving.  We will not rest until our goal is achieved.  Please dig deep and help us make this a reality!
With much Love and Appreciation,
Adam