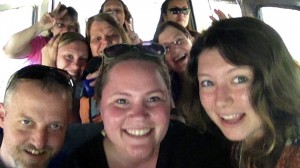 That's right, we are now assembled and counting the days until we return to our oasis in the Caribbean . This will make our 6th trip, but our first as Project Starfish Haiti (non-profit), officially. We again have some return members in Dr Kitty (lovingly known as "Big Chief Black Cloud" as you may recall), Carey – NP extraordinaire and  daughter Lindsay (It was touch and go for a short time, but it just wouldn't be the same without "Smiley" so I am relieved she will be with us again.); we also have 3 of the best nurses in 2 countries returning to their "second job" – Kiki, Chelsea and Sarah (we are so blessed with their compassion and spirit of giving).
We will be dearly missing some previous team members and hope for their return soon (you know who you are!), but once again we grow our team with new members – Dr. Kitty will be introducing her  daughter Ches to our "home away" (yeah…best way to spend a college Spring Break!); she will also bring good friend Tom Sparhawk (With Tom, we add a sociologist to our team – I believe this will be invaluable as we attempt to establish a permanent presence within a new culture….very exciting!). We add 2 more nurses to our corps this year as well – Heather Miller, another from the ranks of Radford University (can't say enough about our Radford and JMU contingents – I believe it speaks volumes for the character of the individuals being educated at these fine Virginia institutions….also makes me feel even better personally since these are my daughter's top 2 choices for next year!); finally, I am very excited to introduce Melila Hunter, a nurse who has lived in the US for many years but is a native from Haiti and has returned yearly to care for her fellow Haitians. We are so lucky she has chosen to return with our group this year (and hopefully we will all learn a little more Creole from her and her brother before we travel).
I am very excited about this coming trip, as Project Starfish Haiti begins to explore options to establish a permanent presence in the land we have come to love. We started this journey nearly 5 yrs ago hoping to assist in a crisis and it has evolved to a deep seated desire to help provide a system of lasting health care to those in such incredible need. We have met so many wonderful people along the way, both in this tiny country as well as right here at home…our family grows with each passing year and we are so much the better for it.
I know I have grown personally in so many ways through this commitment….it can't be avoided when surrounded by so many outstanding people….they are the best of the best. It is such a privilege to work along side them and count them as my friends. I am sad to say we will be missing one of the very best of us again this year, as Dr Peter continues his courageous battle against cancer. I know he will be with us all as we travel, as we are with him for every step of his fight. I pray for his speedy recovery and am hopeful that he will be able to  return with us someday to see our new destination in Leogane….hopefully the site of Project Starfish Haiti's permanent roots in the country.
"Hopefully" yes….but not possible without support. This goal cannot be achieved with just the yearly journey of a single medical team, but rather, will require regular trips to explore possibilities, build necessary relationships within the community, determine the best possible location, assist in construction, recruit and train local health workers and establish a reliable process to regularly provision such an operation.
Whew! I am certain there are many more steps/details required to accomplish our goal and again, we NEED your help! As you read above, we are now designated as a 501(c)3 non profit and donations can be made directly to our organization. They are fully tax deductible. Please visit the Donate section of this site to see how easy this is. Thank you all for your support in the past and thank you in advance for any continued support towards reaching our goal.
From all of us at Project Starfish Haiti, have a very Happy Thanksgiving and a Blessed Holiday Season!
Love to All,
Adam